If you have vacation,  you do not have to work … Makes sense, huh? And yet it works differently if you're working for your own business … My husband, who is a fulltime freelancer always has this 'problem' and I notice it more and more with myself. But it is, on the other hand, a good sign … apparently there is also plenty to do despite the holiday period. My husband for example, is in Germany for his work this very weekend. So I'm  home alone with my daughter Britt. Time to ourselves and strangely enough…than I'm always very productive. But … last time I have also been busy, despite the holidays! And I had already want to post a new message, but it just didn't happen. Anyway, now finally did.
I have found the packaging for my cardboard signs (remember my last post?). They look amazing, I think. In such a nice case: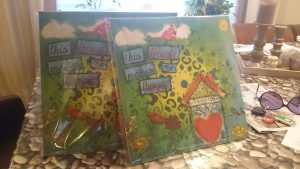 Now I'm just thinking about how I'm going to pack the canvases and the originals. The main advantage of this package is that you can keep the beautiful paintings in the package and see it without having to remove the case. I'm going to think about it, because … these cases are too flat for canvases and originals … Good ideas are more than welcome – rather than as a response please –
As mentioned earlier; I'm still busy with optimizing my website. The most important items are posted. The next thing to do are the translations into English, because I really want them to be there. Now I have a small amount of English-language followers on Twitter, I'm convinced it is necessary. New on my website is the ability to subscribe to my newsletter, the intention is to send the first in September. Don't miss anything and sign up!
My Etsy shop is also slowly filled, there are still quite a few items will be photographed for this. A lot of work, but for a good cause, of course! Why do not you have a look?
Also completed lately: my new work "Give wings to your dreams."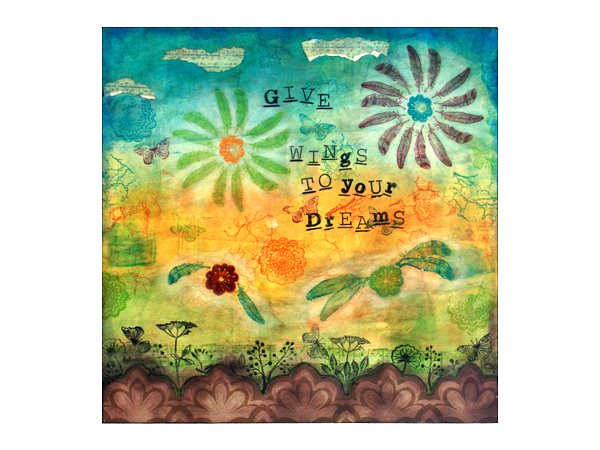 Also this painting is now available in my shop !
Then something very different … in addition to paintings, I suddenly discovered crocheting, especially because it is so easy to combine watching television, hahahaha … .at least I particular make  sets of coasters. I also have a few roses, but they are somewhat more laborious.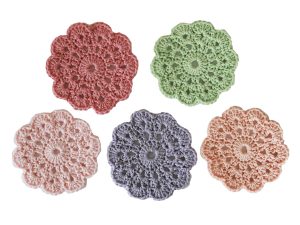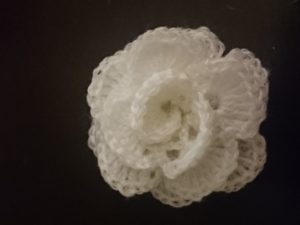 Also in our life:

That's it for this time! Nice week you all, till soon!
Love, Gera.